Okay, time for some "Mythbusting" !
I have always wondered, how fast/slow do you go upwind when doing a superman in the water to retrieve your board ?
Or do you only slow your drift, so the board drift faster than you ? (some believe this is the case)
Today, in warm water and with absolutely no current, I made some tests.
Set my GPS (Amaryllo GT31) in max resolution and to react on small speed too - jumped off the board a bit out where I could not reach the bottom.
The wind was onshore and no current for sure.
Here are the measured facts from today the19/8-2010:
A picture from another day in bigger waves, where I have missed a strapless aerial, and doing a superman to retrieve my board.
I shoot too "high" so to speak - but you often do that, as it is amazing how fast you get back to your board.
But just to show the principle if there should be some who did not learn or hear about "the superman" in kiteschool - eventhough it is standard today.
Legs and feet straight, lower arm out in front of you in the water, upper arm steering the kite which is held in normal height and with normal power or slightly depowered, and you glide across the wind now (do NOT point up at the wind - the most common mistake...).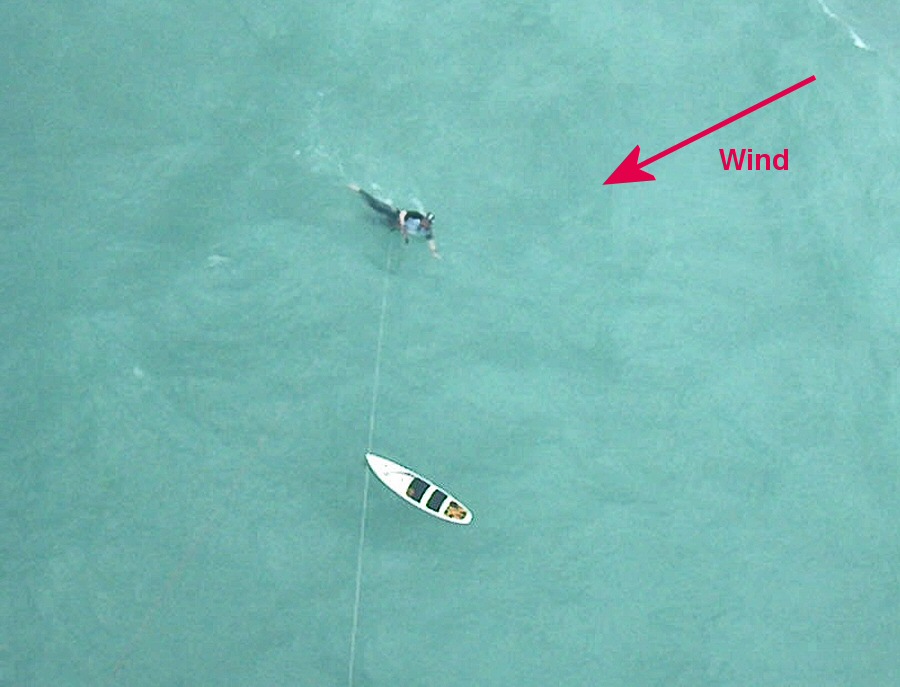 Here you can see how I tested.
I jump in the water and let my board drift, while I do 5 superman legs 30-50 meter each leg.
And then I make a "normal" bodydrag downwind to retrieve my board again.
The missing GPS data points on the "right" legs, is because the GPS is on my left upper arm, and in the water - where it can not see the sattelittes.
But does not matter, as it capture again whenever I "turn" at the ends, so the result is fully useable.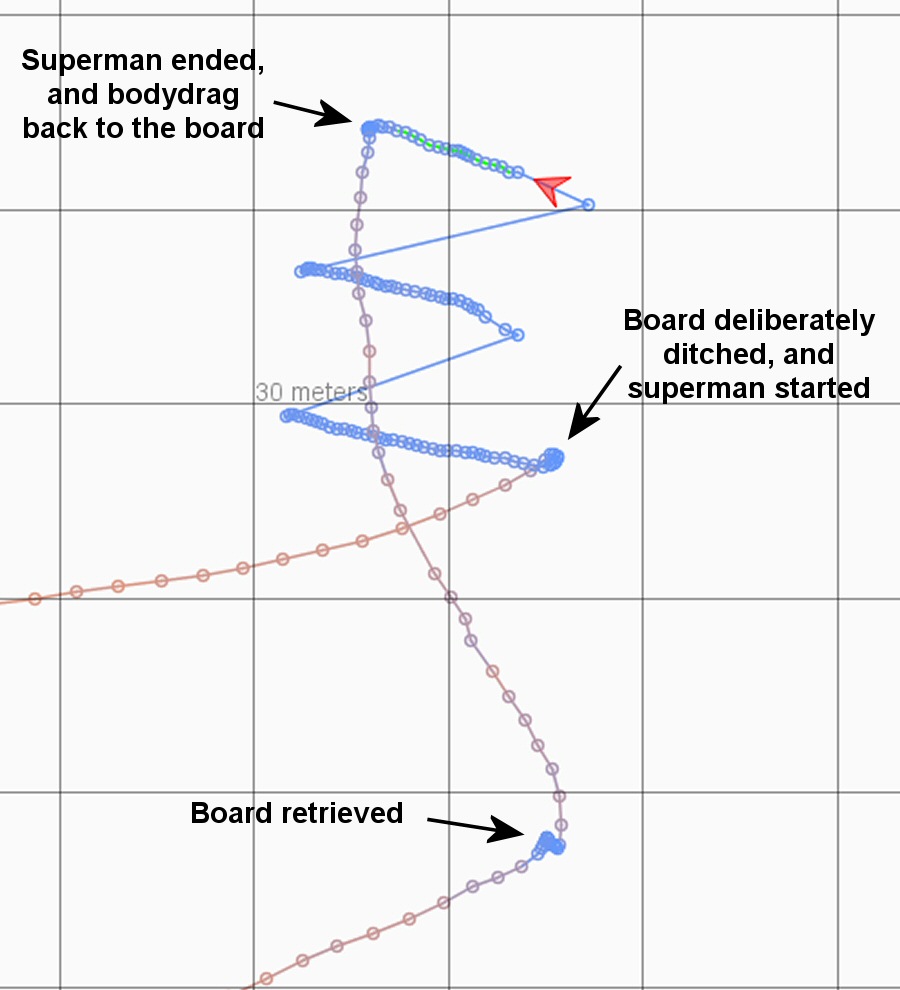 Here one can see it a bit closer - quite impressive angle you have when doing a superman without board I think.
Well, actually just as high an angle as when ON your board, sometimes higher when low wind...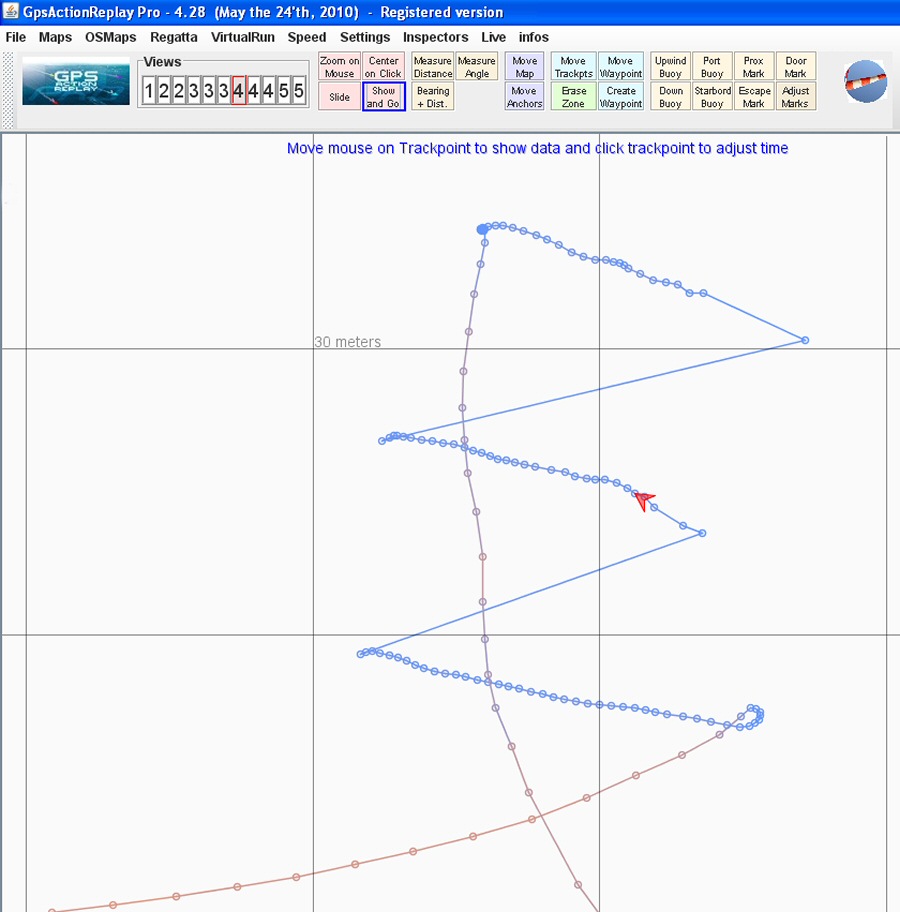 Okay, now the facts and interesting numbers (measured and calculated) -
Test is done with a 10m2 Takoon Chrono kite, normally pleasantly powered with a small TT and around 75kg.
1-2 feet small chop waves or less, and wind is not very stable.
------------------------
Superman speed in water: 4-6km/t (2.2 to 3.2 knots).
Angle towards the wind: 15-20° which means 30-40° between the legs.
Superman VMG towards the wind: 1.5-1.6km/t.(0.8 to 0.9 knots)
Average VMG with turns (loss): 1.25km/t. (0.7 knots)
Downwind speed when bodydragging (and kitelooping a bit depowered): 15-23km/t.(8 to 13 knots)
Board drift speed (Takoon Sutra 132x39 with straps up): 1.0km/t (0.54 knots)
------------------------
Above means, that if your board is 10 meter upwind, it will only take around 15 seconds to reach your board.
And NO, current means nothing - many go wrong here and think that current means something too...
The other test I made a bit earlier, was with the same type of kite, just a 12m2 in less wind, but the waves were "breaking" more, so more difficult besides less wind.
The angle towards the wind were around 10-15° which is 20-30° between the legs, but still quite impressive I think.
Other facts measured the same day -
VMG for small TT 132x39: 5-7km/t (2.7 to 3.8 knots).
VMG for small raceboard with antiweed fins: 12-14km/t (6.5 to 7.6 knots)
Downwind VMG for same raceboard: 25-28km/t (13 to 15 knots).
--------------------------
Bottom line is, that one goes very steep upwind when doing a superman !
In fact, one can go more upwind, with you and your kite only - it wind is on the lower side for the board to go upwind - THIS is a fact that really is a new thing for many
As long as the kite can stay in the air, I will say that you can go upwind by superman'ing
So myth is "confirmed" - that you can actually often go at a higher angle upwind without your board, than when ON your board, especially if the wind is on the low side..
When straight onshore and shorebreak - superman'ing out (with your board in your hand/arm) is often the only way to get out and get started - most knows this, but I think it might come as a surprise for some newer kitesurfers
Hope others find the data interesting
Kindly, Peter Frank
PS: While writing, I came to think about it - I should have tested the same thing, just with the board under my arm - to see what angle and speed I obtained now - just out of curiosity