*Disclaimer* I ride for bracklesham boardriders who stock Aboards, I got given the boards to road test and write a review being the resident boots/cable fanatic, which I have done and I am genuinely really really REALLY stoked on this board
*/disclaimer*
Over the last couple of weeks I've had the chance to ride the brand new 2011 aboards w-series in both the 141 and 137 sizes. I ride boots about 95% of the time behind a kite and also ride cable a lot so I've been hoping the w-series could be the board I've been looking for to bridge the gap.
First Impressions:
The outline is nice and clean, and the shape of the board looks good, nice length-width ratio and not too wide into the tips as some boards can be. The rocker looks spot on for a wake style specific kiteboard, I measured it and came out with roughly 4.3cm on the 137 and 4.6cm on the 141, so hopefully the landings will be a bit kinder on the knees than my old super stiff/flat x series. The channels on the bottom are an interesting new addition and I'm intrigued to find out if they really can offer a lot more grip when riding the board finless for hitting obstacles etc. One of the most striking features on this board are the number of inserts, meaning a wide range of stance options and the facility to accommodate (I'm pretty sure) any wakeboard boot currently on the market. I always ride a wide stance so I was pleased to see the widest stance hadn't been narrowed at all from the 2010 aboards.
On the water - kiting:
First thing which struck me about the board is that I was up and riding in almost as low wind as I would have been able to get away with on my x series. I had been worried that the extra rocker would really kill low end on the board but I was pleasantly surprised to find myself happily ripping out with my mates on exactly the same sized kites, and not struggling at all. I was riding the board finless due to hitting sliders on it and immediately noticed what a difference the extra rocker combined with the channels made. The grip isn't like riding with fins, it feels different but still feels really nice and solid under your feet when you come down hard and fast. Pop on this board is really really good. It took me a little while just to alter my technique due to the extra rocker, but now I've got it dialled I'm sure I can pop at least as high as I could on my old board. I've come to expect good pop from aboards so this wasn't really a shock to me, however landings was where I really noticed a vast improvement compared to my old board. The extra rocker just gives you that cushioning you need when you come down from height, kite low in boots. I felt a lot more comfortable booting hard off kickers on this board than I used to, just because I knew that 99.99% of the time I was going to be able to walk away with my knees intact!
On the water - cable:
Again I was riding the board finless due to wanting to hit obstacles, which meant the board was pretty skatey, more than a standard wakeboard, but nowhere near as skatey as other kiteboards I've ridden at the cable. First thing's first, it's not a wakeboard, just to get that point out of the way. It's never going to feel exactly like a wakeboard because the rocker just isn't quite enough (although we are now seeing some wakeboards coming out with nearly as little rocker as this one). BUT, and it is a big but…..this board is actually very good for cable use! The rocker isn't huge, so I was expecting the board to be too fast round the corners, but the fact is that it's not. I think this is where the channels on the bottom really come into play, because when riding the board flat they give you the extra drag you need to slow down and make riding behind cable a lot of fun. When kiting you're on an edge pretty much constantly, which means the channels aren't really in the water (they're situated towards the centre of the board) but when riding behind cable they are in full contact with the water almost the whole time you're riding. The added drag from the channels in the water doesn't seem to have any effect on the board on sliders though, making spinning and pressing nice and easy. The board slides really smoothly, and I'm pleased to report that after 3 sessions behind cable getting thrown about and smashed every which way on sliders the boards have really minimal scratching on them. As expected from my kiting sessions on this board it popped really well behind cable and landings were comfortable. I rode for nearly 4 hours yesterday behind the cable, booting 3s off the big kicker as hard as I could and my knees feel fresh as a daisy today
Overall:
For a wakestyle specific kiteboard this thing is really really good, the best I've ridden to date over the cab custom 2010 (havent ridden the 2011 so cant comment), slingy darkside etc. If you want awesome pop with comfortable landings then this thing is definitely for you. Get yourself a demo, you won't be disappointed
As a cable board, it's still not a wakeboard, but it does the job better than any other kiteboard that I've ridden, and holds up to slider abuse really nicely. If you're going to ride behind a kite the majority of your time, but hit up the cable every now and then, this board will be perfect for you. I kite and ride cable about 50/50 now, I was going to buy a wakeboard and a kiteboard this year, but at least for the moment I'm going to stick with only the W series because it does everything I want it to and it does it well. I genuinely love this board, my order will be in as soon as my student loan is!
Here are a few pics so you can see some real life pics of the board, check out the rocker/shape, see the wide array of inserts, and also get a closer look at the channel things on the bottom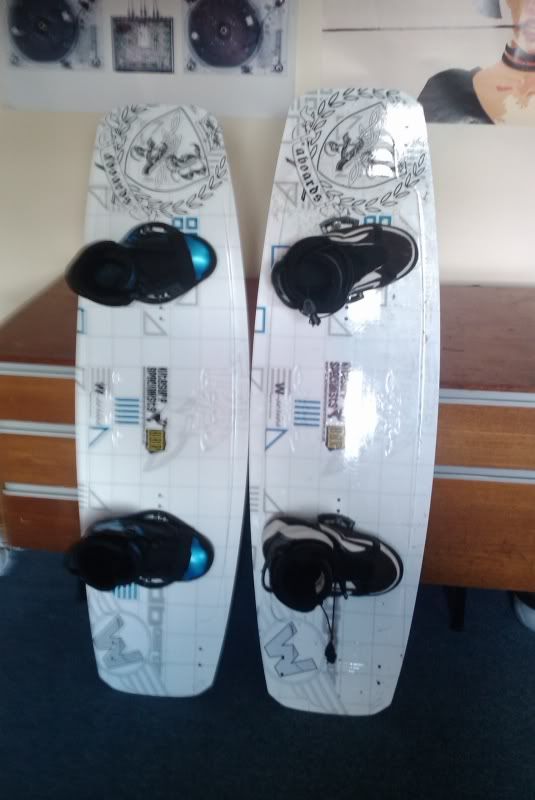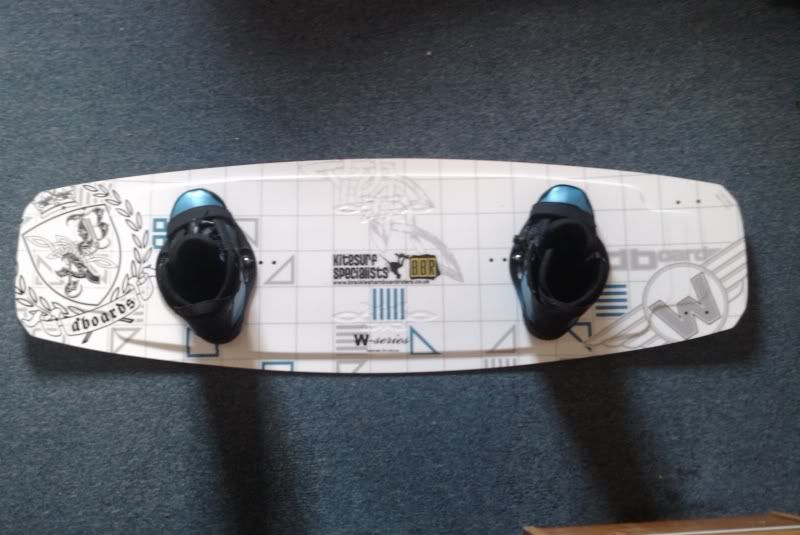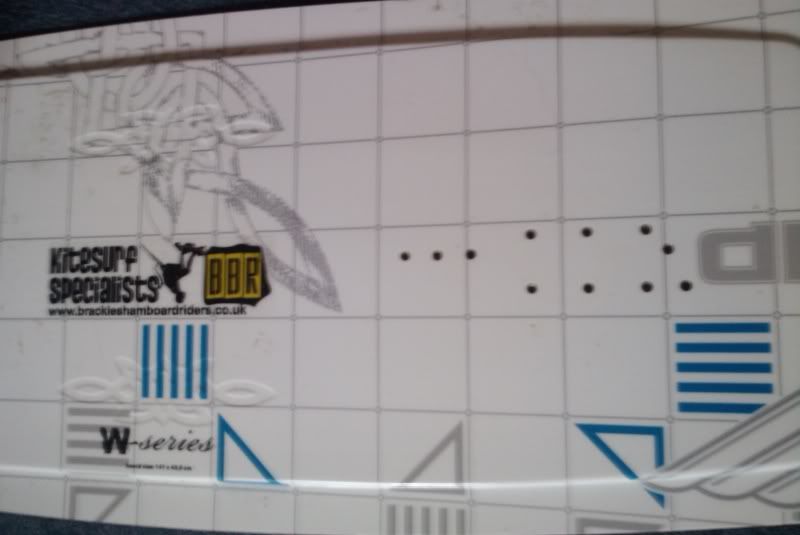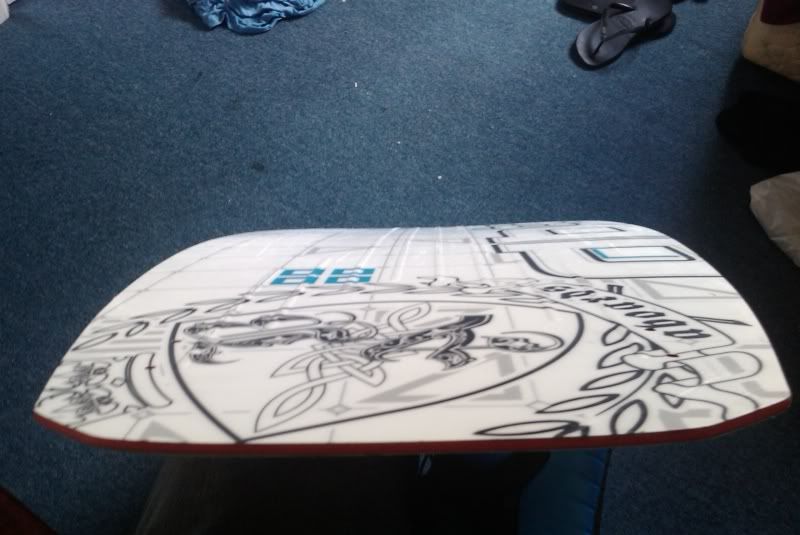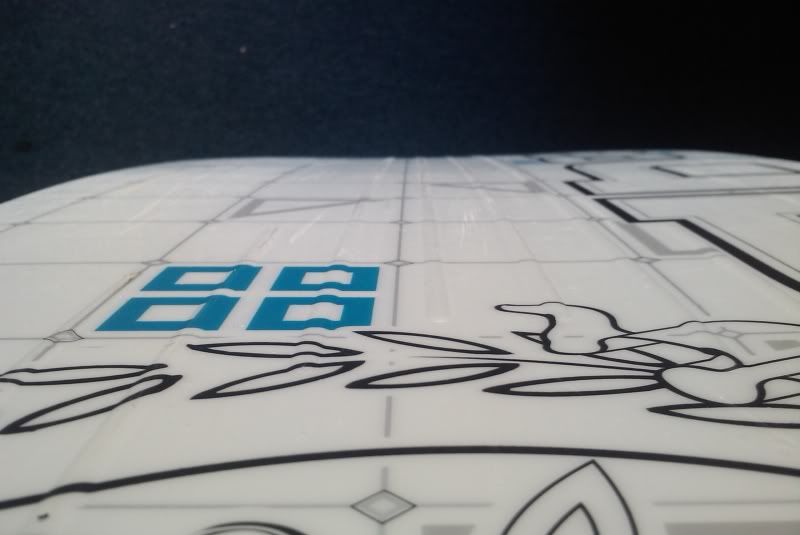 For more info check out
W-Series Kite Wakestyle/Cable from ABoards 2011 < Kiteboarding < News - KiteRoam