Condolences to the Family very sad news.
Sad as it is unfortunately it takes a incident often loss of life for everyone to take a moment and review safety measures. When I started out many moons ago I looked at a lot of different knives I could carry on my harness in case I needed to cut away for whatever reason. I remember I had the orignal Dakine Pyro with orange hook knife that only last a few sessions until sea had it's way with the blade.
I eventually found the CRKT Bear Claw. Originally developed as a woman's self defense tool. The subsequent blunt nose version became a very useful emergency knife for EMT's and the likes that would allow them to cut through seat belts like butter. Best part of this knife is that the injection molded sheath allowed a person to strap it to the harness webbing for close access. Point is many hook knifes supplied with Kiteboarding harnesses do not allow a person to cut through thicker leader lines which in many cases are covered with floaters making them difficult to cut. Best bet (cheapest, safest) would be to cut the centre line and I have yet to see a harness with a hook knife that can tackle a centre line in a hurry.
I tested my bear claw on kite lines and center lines leaders under load and they were no match for the Bear claw. Another plus point is that the hook profile allows you to scoop up and gather whatever you are trying to cut with almost no need to actually perform cutting motion on lines. Due to the tentsion you literaly only have to touch the line and they're cut it's pretty impressive actually.
I'm not going to lie I stopped using my Bear Claw many years ago. I suppose you get complacent through the years. Another reason was the sea water started rusting the screws on my bear claw, lack of maintenance on my part. Going to start wearing it again, if not for my own safety maybe it comes in handy for someone else in trouble.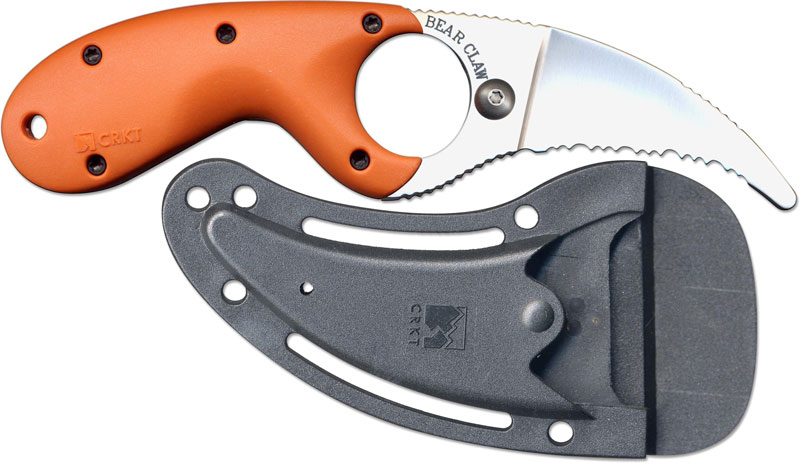 http://www.crkt.com/Bear-Claw-ER-Orange
... _id=915330