After reading about another fellow kiter losing their life last week (Rene) it was kind of a wake-up call for me to review my safety measures again. A long time ago after looking around at the different options I started carrying a CRKT Bear Claw. It was a great all round package and more than up to the job, bar one drawback. I also have a Shark phobia and living in South Africa we have plenty "bitties". Not that it would ever help I'm sure, but it was reassuring that I could go down putting up some sort of a fight
I mentioned a drawback. The one I bought at that time was the defense version which was not ideal due to it's pointed edge, quite frankly it's one brutal little thing and would not want to be on the receiving end of it should something go wrong. But I used it anyway and thankfully never had to deploy it, took it off a year or two later. For what ever reason
I went back to the CRKT website and found that in the last 8 years they had updated the Bear Claw line with a EMT type version. This version had a serrated snub nose (blunt) in a Hi-Vis orange which IMO rounds the tool off quite nicely and makes to a great addition in terms of safety. Going to start wearing my Bear Claw again, if not for my own safety it might come in handy if someone else is in trouble one day.
I found a few other examples on the net as well. Not going to go into them now, but I think any kind of cut- away tool is a must on a harness over and above the little hook knives we are given. Please feel free to use this post to discuss other options. You have found.
Below are some pictures (cell phone sorry) of the unit with brief description. Thanks for reading Safe Kiting.
More info
http://www.crkt.com/Bear-Claw-ER-Orange
... rated-Edge
Harness 2008 Liquid Force Luxury

In the Box: Knife, Zytel Sheath, Metal Clip, Lanyard, Torx driver, 4 screws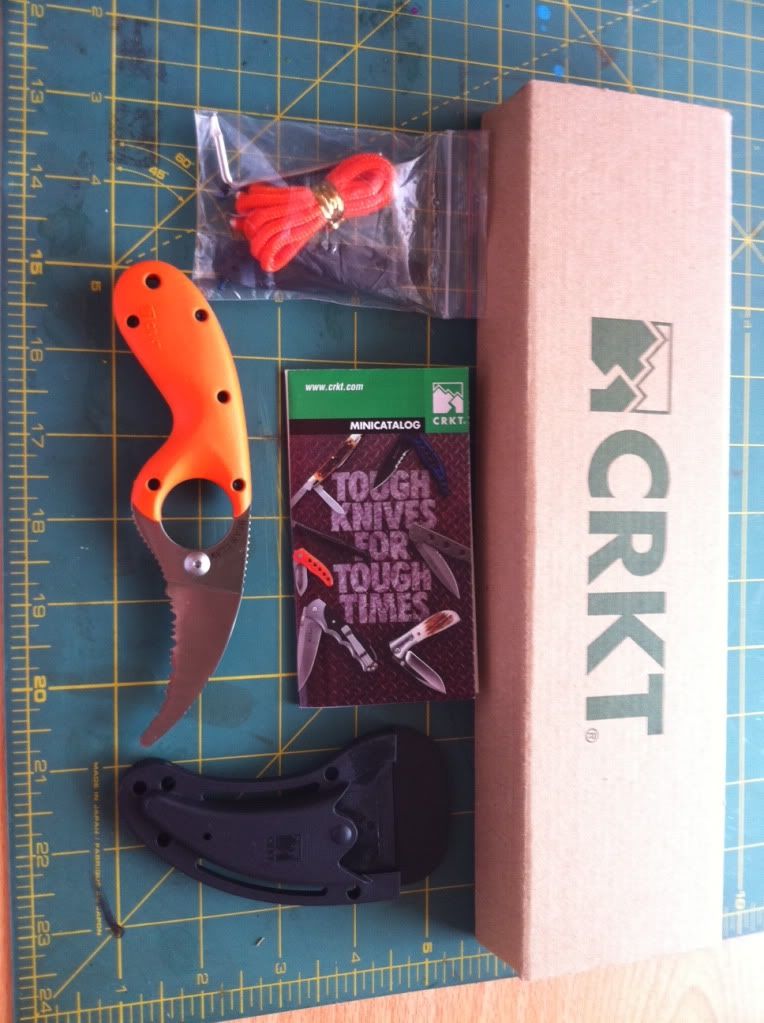 Belt Clip can be fitted handle up or handle down. Prefer handle up.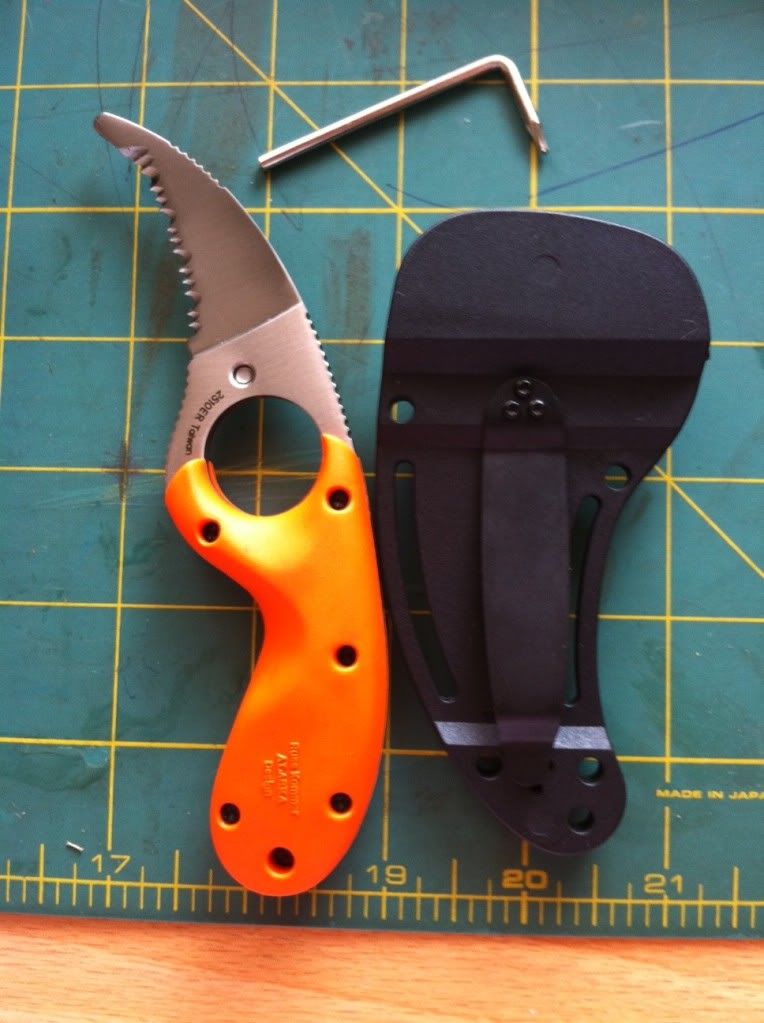 Comparing old Defensive version (8 years old) with new EMT version. EMT slightly longer same sheath. Old claw still has an amazingly sharp edge. Lack of maintenance on my part saw some of the torx screws rusting, needs a good clean and it will be as good as new.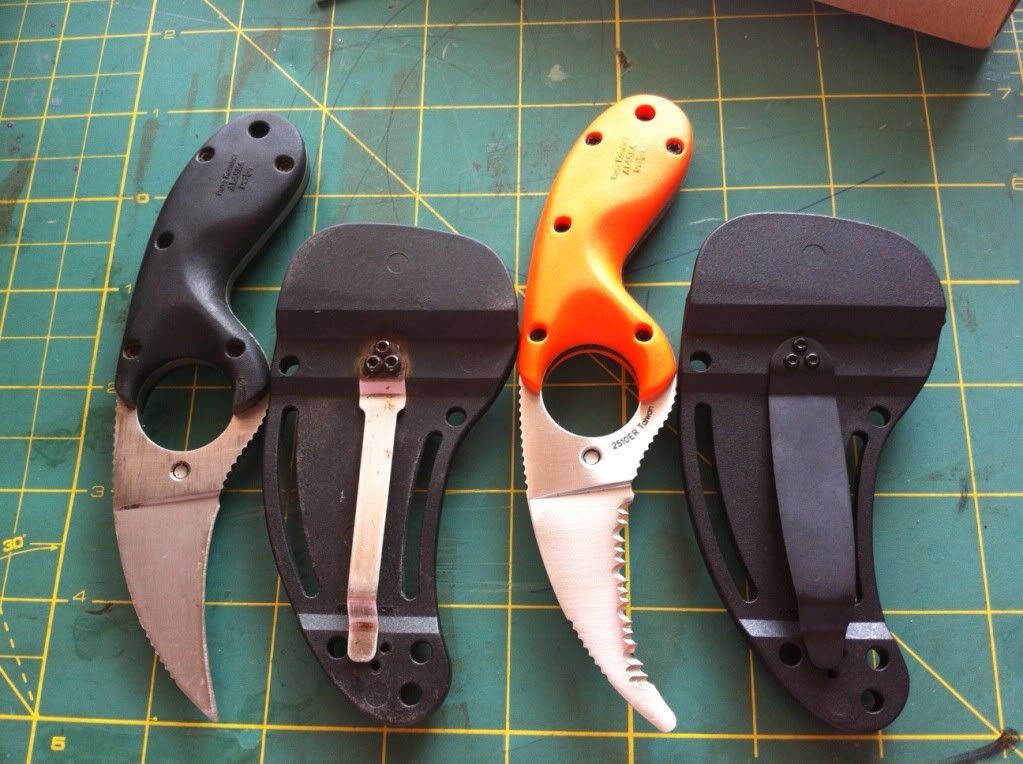 Knife is right side bias. I'm left handed here it is fitted left hand side. Top of the harness webbing triangle. Fit is slightly higher still comfortable not digging in side with LF Luxury, but drawing with left hand is a little cumbersome. Drawing with right hand not bad.
Here it is fitted to lower part of the harness webbing. Fit's nicely in the middle of the harness protect by the top part of the webbing. Ideal IMO.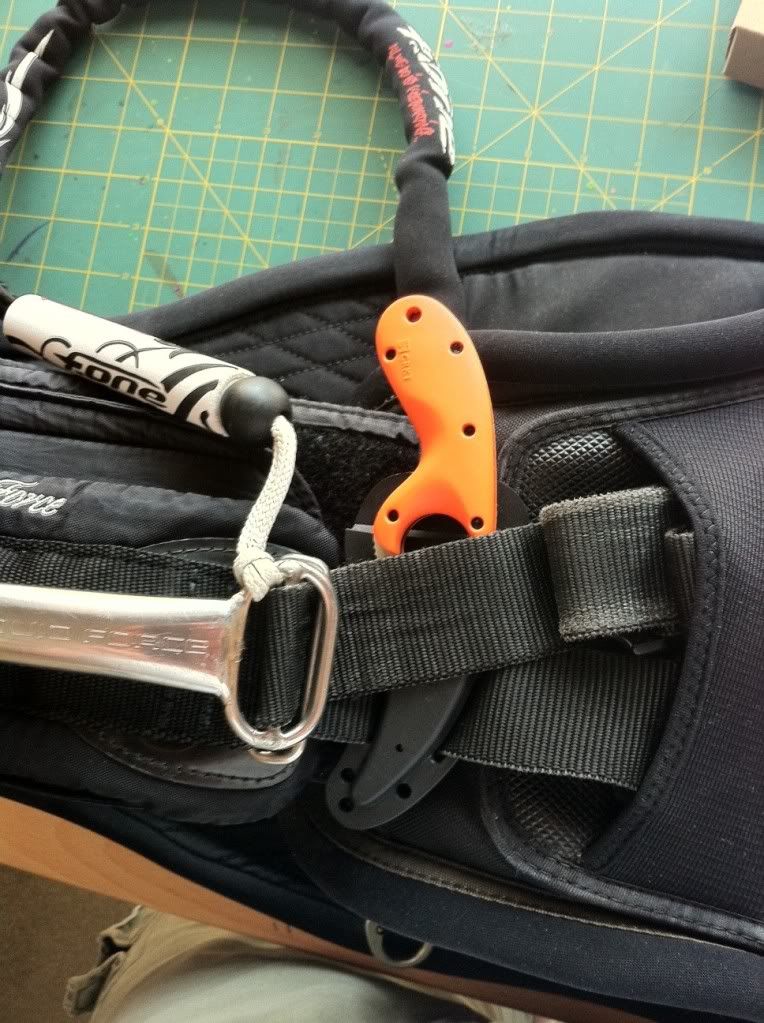 Harness on, knife fitted left side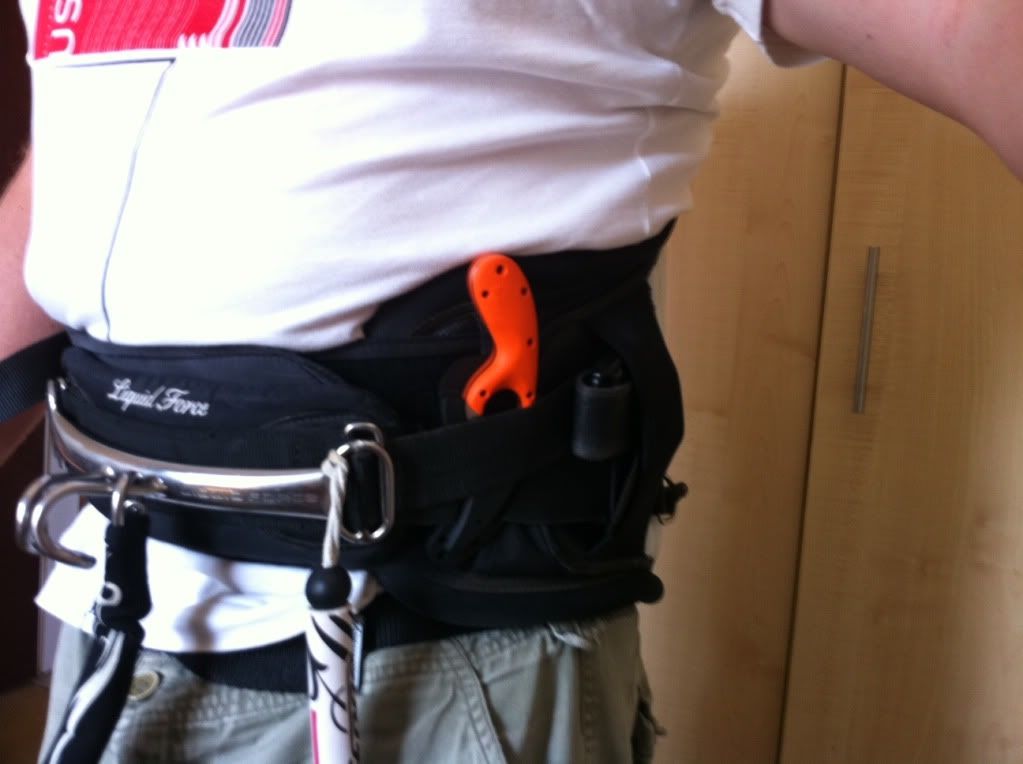 Right side fitted, lower webbing. Added Lanyard rope, it's about 1 meter long. Snub nose Bear Claw will allow for it to dangle should you lose knife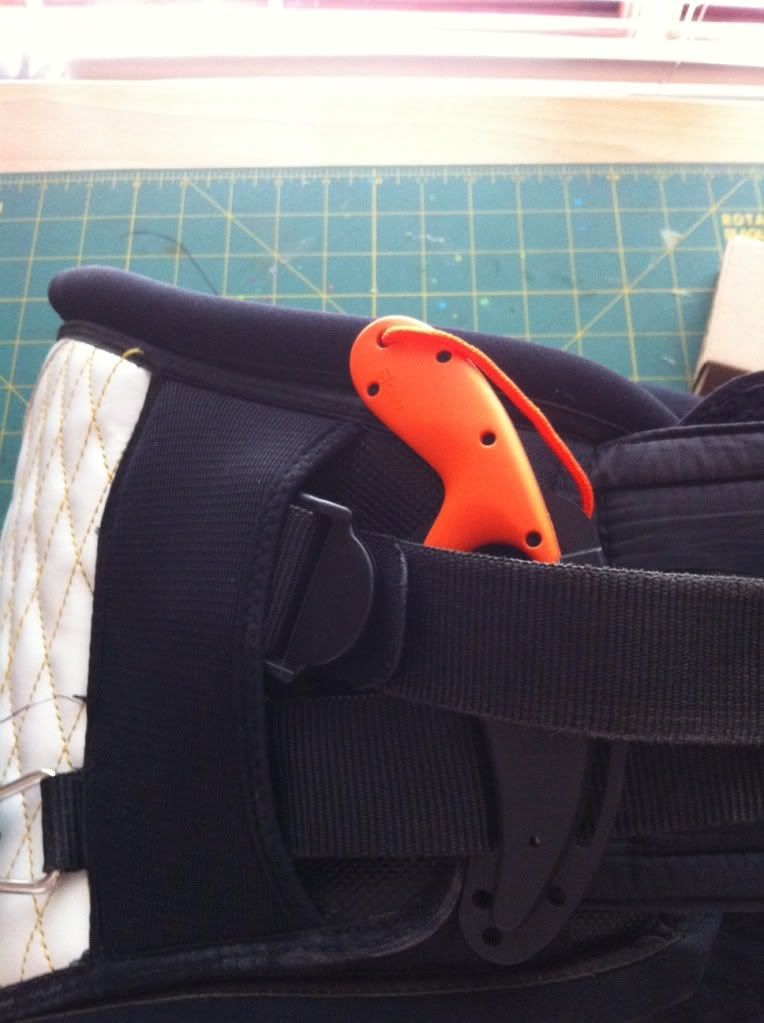 Harness on, knife fitted right side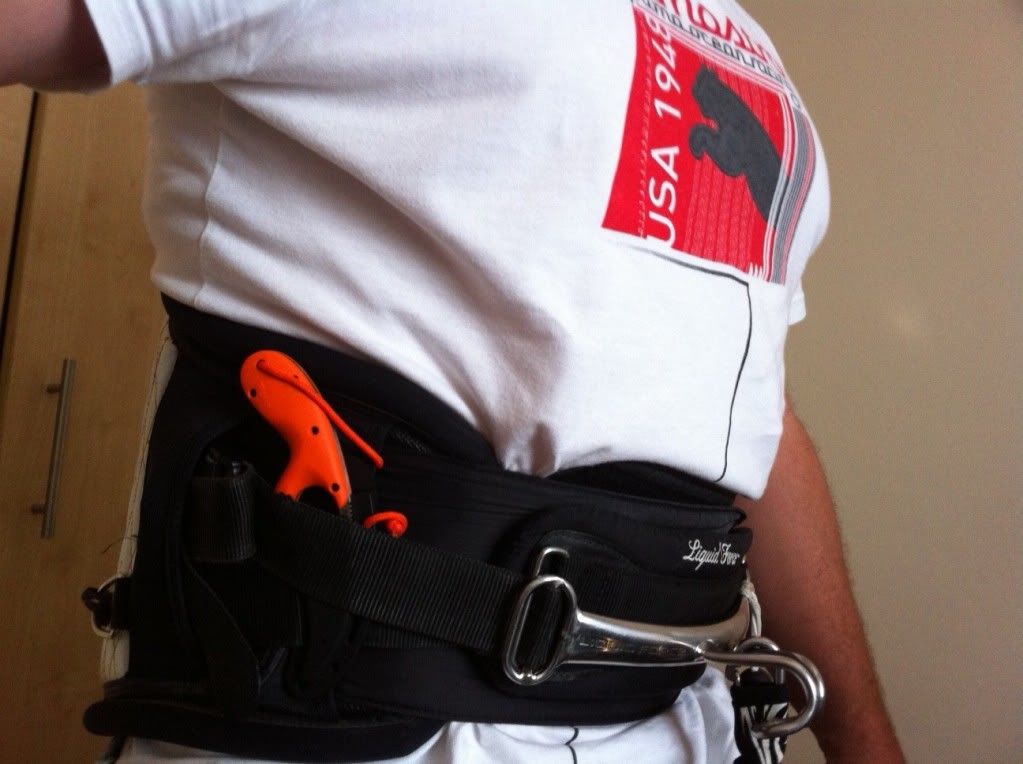 Excess lanyard rope hidden behind power belt section. Some kind of spring cord (slinky) might work better here?