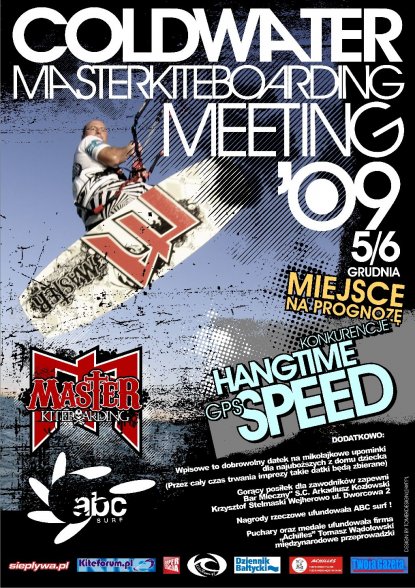 Cold Water Meeting
Santa Claus on the kites
Date * (05) 06 .12.2009 r (start in the best possible terms)
Location *: "the forecast"
The exact location will be given a few days before meetingu depending on wind direction will be:
Small Sea, parking for camping Maszoperia, Rewa or Rzucewo.
Competition:
1. Hang Time
2. Speed (using GPS)
Timetable for the start date:
9-10 - records
10.00 - skipers meeting
10.30 - start of competition
15.00 - end of competition and prize giving ceremony
En
trance fee is a voluntary donation to gifts for the poorest of the children's home
(Throughout the duration of the event, such donations will be collected)
Prizes founded ABC surf!
Hot meal for the players will Milky Bar "SC Arkadiusz Kozlowski, Wejherowo Street. Dworcowa 2
Cups and medals donated by 'Achilles' Thomas Wadolowski international moving.
Media partners: Kiteforum.pl, Sieplywa.pl, Kiterewa.pl, twojagazeta.pl, Baltic Journal, Superstacja TV studiodesign Thomas Rogozinski, "Achilles' international moving Thomas Wądołowskiego
Insurance and medical examination:
Each participant meetingu should provide security and medical checks on their own.
Entries and any questions, please contact: Janek Fuu1 "Lisewski
masterkietboarding@wp.pl
www.masterkiteboarding.pl