Hi,
I'm Arnone, a French kitesurfer, photographer & graphic designer.
I've created a t-shirt collection especially for us, kitesurfers.
The main goal to this project is to finance the combi-van of my dreams, to get closer to my craving for freedom, and to go riding to more distant spots and to go and meet you.
Illustrations are directly inspired by my sessions.
All clothes are produced on limited editions.
The website of my project :
http://arnone-project.com/home
Hope you'll enjoy and share it !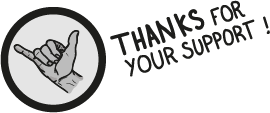 Arnone
http://arnone-project.com