Precisely - dont try to swap when learning, particularly not the same day !!!
Later you can change easily, just jump from one type to another.
But Kami has a point that hits many of us - the boards we loved earlier somewhat changes because of hydrofoiling
From the day I got my first Hydrofoil, I have never ridden my raceboard since, not once
I have not ridden my TT at all in 2015, and only one short session in 14
Whereas earlier it was maybe 30 times per year (and before that in the good ol' days, much more)
It has influenced my way of riding waves too, at least the gear - as now I prefer boards with a less curved rockerline, so the waveboards goes upwind without needing an "overpowered" kite.
Definitely because of hydrofoiling it feels wrong riding with so much power in the waves, on bananas, just to be able to go (still slowly) upwind
I just went through the last 5 years from the logs, and the "evolution" has been like this: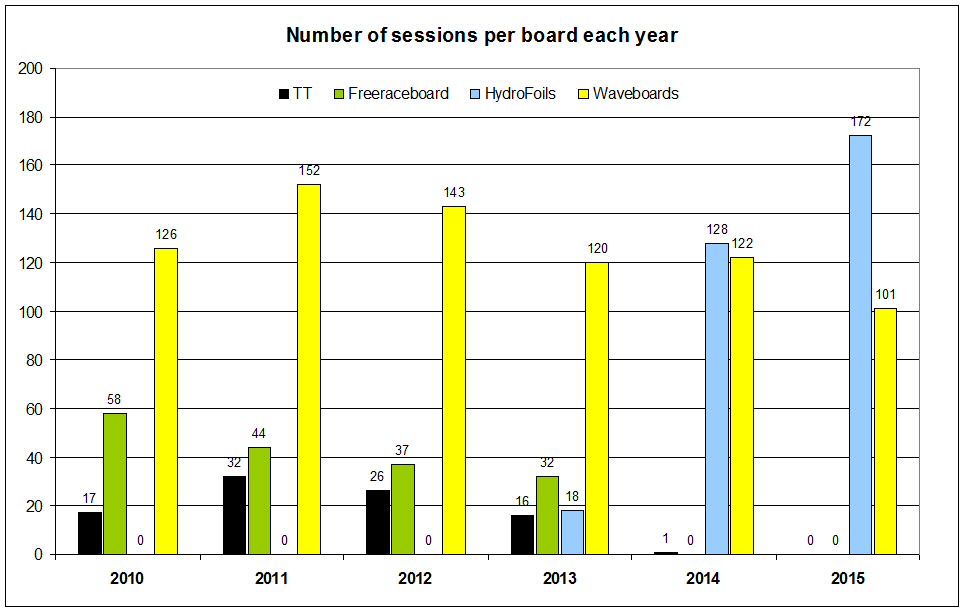 Apparently the TT's (and Banana Surfboards) just dont make the cut anymore, but still ride waves almost the same amount.
A little less as I dont drive quarter of a day to find more wind/waves, but goes hydrofoiling locally instead - only difference.
So hydrofoiling simply added a huge number of extra sessions possible that are way more fun than a raceboard, and just as fun sometimes better than a waveboard in good waves - AWESOME
So for me, TT's feel and look wrong now too, eventhough I can switch easy if I want to - but I dont...
Peter
Changed order 20160201 06:44 local DK time