Kite Soldiers 2011 ~ February 24th-27th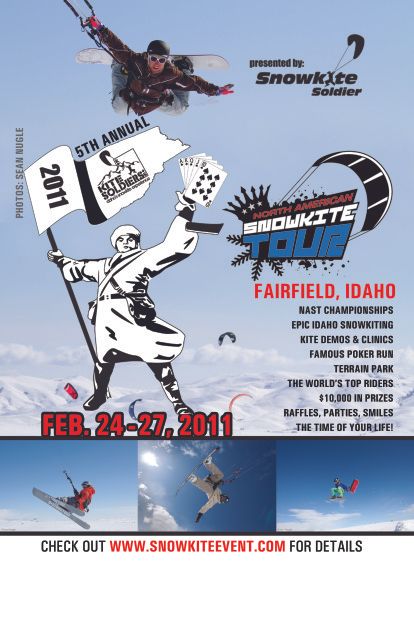 Now's the time to lock your calendars for the 5th Annual Kite Soldiers snowkite event and the North American Snowkite Tour Championship, February 24th through the 27th. Let's gear up for a weekend filled with epic Idaho snowkiting and an unforgettable time. If you missed our event in year's past, you may have heard the rumors… that we've taken the snowkite community by storm and secured Kite Soldiers as a premiere snowkite event in the world.
Snowkiters from around the globe will drop in on Fairfield, a small mountain ski town in central Idaho. Why must you be at Kite Soldiers 2011? Besides the famous Poker Run and the chance to demo the latest gear, the world-class sliders and kickers and the loads of free swag, the beers afterwards and the addicting vibe, we are confident you must come to Idaho for snowkite terrain that will blow your mind and an event that will leave you buzzing for years to come.
The Poker Run is amazing fun for every kiter of all levels to try their lucky hand at running a course and winning top-of-the-line gear simply by holding the best poker hand. We are also proud to announce Kite Soldiers as the North American Snowkite Tour CHAMPIONSHIP location! That's right, we are adding a competitive platform to our event with course racing and freestyle competition. We will crown skiers and snowboarders, men and women who have competed in tour stops in Montana, Colorado, Utah and Idaho and showcased their talent and snowkite ability. Who will be our NAST champions? Attend the events, compete and you could be crowned North American Snowkite Tour royalty!
Please visit
www.snowkiteevent.com
for further details… maps, lodging, registration, schedule and more. DON'T MISS OUT! REGISTER ONLINE NOW & SAVE $... CASH and prizes will be awarded!
See you at launch time!
Monty & Trisha