The 2 french Test magazines are released now (Kiteboarder and Kitesurf mag).
Results are clear: Zeeko for its first year is the revelation of the tests.
Find results per magazine in French kiteshops.
For this overall ranking, the method of ranking used for racing contest was applied:
- Only kites tested in both magazines were taken in account.
- When there is different sizes tested, only the best result was used.
- Note/Brand/model allows to have the ranking for a magazine.
For example, on kiteboarder magazine, Notus By Zeeko obtained 18/20points. This result placed the Notus 2nd of the ranking for kiteboarder magazine (2nd = 2points).
This ranking method was applied for both magazines and the score of each magazine was added to the other.
Here is the top 5 of the best kites of the 2009 year (including ex æquo results).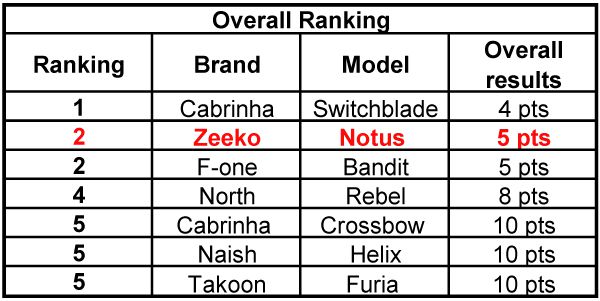 More details here:
http://zekites.over-blog.com/article-30737874.html