I have now had the chance to fly both 12.1 and 18.1 Mach1 kites in "dry" conditions. This is a quick writeup of my overall impressions.
Firstly, both kites were shipped and packed in the excellent quality bag from F-One. They both came with the 55cm bar, complete 4-line system (27m) with safety leash, and both-ways large volume pump. The kite design is good, and both of them looked gorgeous up there in the sky....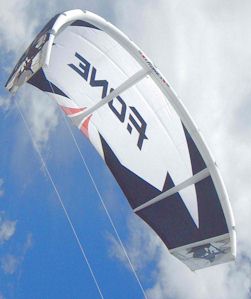 Mach1-12.1
Test conditions: wind: 12-14mph (kite range: 12-24knts), 55cm bar, board: "on feet" (dry test)
Kite is fast and gives very responsive turns. Hard to tell the difference from the 8m2 foil kite I am used to (and that is reknown for very good responsiveness)! The kite remained as easy to control even when fully choked.
Purposely, I succeeded to stall the kite. For that, I had to be fully strapped (front lines), and brought the kite to zenith while quickly choking the bar.. that made it. Yet, this is not quite in the range of typical use!
The pull generated was fairly constant all over the window, but I would probably have needed the directional board to be able to surf that relatively low wind.
A quick test at the safety system proved to function as expected. No surprise at this stage, although this will need real conditions testing.
Launch/relaunch could not really be tested either. Clearly, when on the ground, I needed a second person to get the kite started.
Mach1-18.1
Test conditions: wind: 7-10mph (kite range: 6-14knts), 55cm bar, board: "on feet" (dry test)
Quite much the same feedback as above. A major difference was the *very* low wind conditions: in order to get the kite started, it really helped to pull on the central strap (thus accelerating the kite relative speed and permitting it to climb (well done, Johnny!).
A little tuning on the central lines might help, or this handling may just be common sense for 4-lines flyers.... but again, that was just 7mph of wind! Once up and flying, this concern disappeared, yet the kite required to be very well pumped-up to deliver its best performance.
Now, the amazing fact is that this (relatively) huge kite turns very well despite only 55cm of bar: sensibely less responsive than the 12m2 above, yet, totally sufficient to effectively control the kite. When fully powered, this is. In choked position, although the kite remained easily possible to control, there was quite some inertia in its response. But again, this was in very light conditions, and I believe that the kite will be more responsive in choked mode when it needs to be: in stronger winds.
Despite low wind conditions, the kite was flying rapidly accross the window (in choked position), and would give great pull when borded. What a feeling!

Bottom line? Two incredible kites with huge power resources when borded and still responsive when choked. Both delivered very good controlability even when placed on the edge of the window, which is a great feature and will help surf upwind.
Stable, Healthy, Responsive, but poised to deliver high speeds and huge air: these kites are most certainly a hit for the new season but not necessarily to put in all hands (intermediate to advanced, I would say).

Can't wait warmer tempeartures to get out there!
Cheers,
j.
<font size=-1>[ This Message was edited by: Jido on 2002-02-27 06:36 ]</font>