Well, as part of my personal pre-kite safety check is also reaching with my hand to the back pocket of my dakine fusion harness and verify that my safety knife is still in place and reachable.....
Dakine safety knife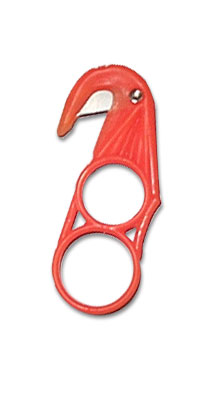 On my last kite trip I had a scary adventure. We were kiting (without kiteleashes) when we suddenly ended up inbetween some corals. Just at this time my friend looses his board. It was already getting a bit dark and he could not find the board which was floating upside down.... Anyway I finally could see it and brought it back to him... our kites got caught and we had to let go of the bars.... no problem I thought after a while in the water, I had the kites and lines and bars and my friend both boards...
we did not have much time to self rescue in day light back shore so I decided to pull out my safety knife and get rid of some of the lines... But what a SURPRISE the knife blade was rusty and almost completely gone.....no way to cut anything.... well we were finally rescued by some beduine fishermen....
MY QUESTION: what is a good stainless steel safety knife? Or in order to be sharp and small, does it have to be made disposable like the dakine one? do you need to rinse it in freshwater and keep it well oiled all the time?
Is the Jack knife a better model?
Andreas