Sooo,...
the last few days have unfortunately been lacking in wind…kiting is impossible. Since I still want to live the sport, here is the latest thing on my new kites…my english is not that good but let give it a
shot.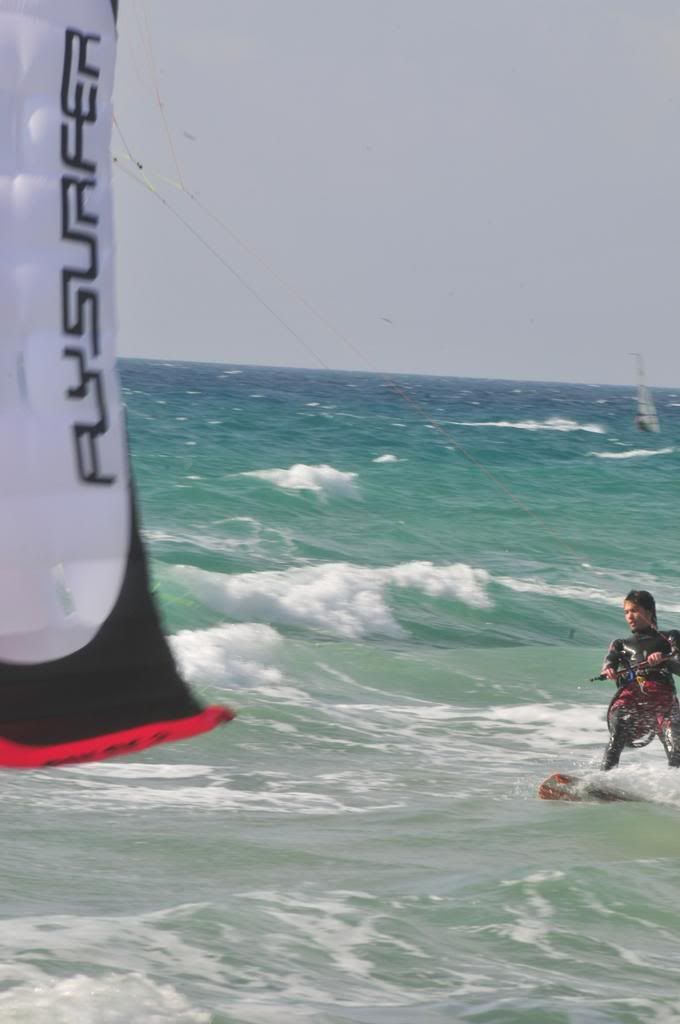 I've been a staunch C (Tube) kiter for eight years now. I started on a Wipika airblast, progressed to kites from North, JN, and Slingshot up to my last kite, a Gaastra Max. Most of them are still around at my house. Why do I always fly C-kites? Easy…they turn better, are more explosive, fly faster and are simply better for the whole freestyle and wave thing...at least that was my opinion
In the past couple of years, I had the opportunity to test bow and Flysurfer Kites, but in my opinion they were never quick enough, or just didn't work that good unhooked.
In January, when I was on the road with Tigga I happened to be kiteless. Well, not really without a kite, cuz' Ralph from Bigboysports.de and Tigga was so kind and organized a couple of Switchblade3's.
They don't fly too badly (for bows). They're fast…how it should be, with a superb lift. However,unhooked- they just didn't float my boat.
Armin was in Tarifa at the same time, and this is how the 8er pulse2 and I got to know one another. He shortened the lines for me to 12meters to test the kite on the water with like 5 or 6 BFT.
On land I was a bit shocked how the kite reacted to steering commands. Very direct ( I'm used to that from my Tubes), minimal steering and holding force and everything without delay. On the water I was immediately impressed with the flight quality.
The Pulse criss-crossed thrue wind window like it was stung by a bee..to the edge of the wind window...in notime i was crossed upwind so i had enough space to try out a few moves with the kite.
First I devoted myself to a couple of waves...I know that the Pulse is a Foil Kite and it's normal that if you surf straight to the kite (take the power out of the lines) it should collaps..BUT NO FUCKING WAY..with fullspeed i turned into the direction of the kite to prepare a cutback...and the kite?! Simply stayed where I parked it...hooked-in or unhooked...it makes no difference to the kite!
The Depower is super...relative short depower path but really efficient...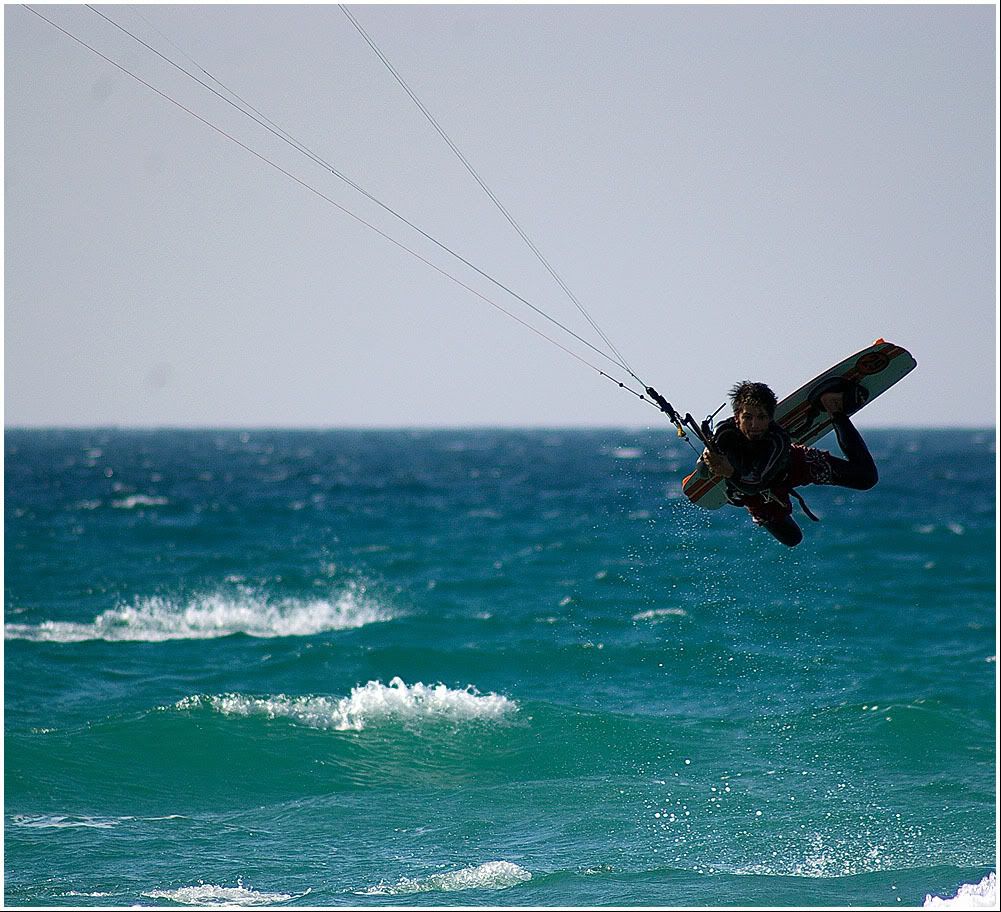 A bit later I unhooked to try out some tricks...awesome...you can load the kite very extreme and then it shoots you into the sky without steering the kite higher than 10 o'clock...the kite with the heavyest pop i ever tryed..Youri had the same goof impression the day before when he skeptically took the kite out for a spin. With no previous practice, I tried out some kite loops, down loops, s-bends, etc. The nicest surprise...I could actually land them
After an hour of kiting I got the signal from Armin to come in; it was time for him to went home…didn't matter anyway… I had found my new favo kites for my 2008 sessions...
A couple of days later at home, I gave Ralph a call…another couple of days and the 10er Pulse2 was arrived at my door. Freed from its storage bag, it has surprisingly small packing dimensions and from my inspection I immediately noticed the super workmanship.
Typical Flysurfer, it arrived ready to fly... etc...that means roll out the lines and you can launch your kite...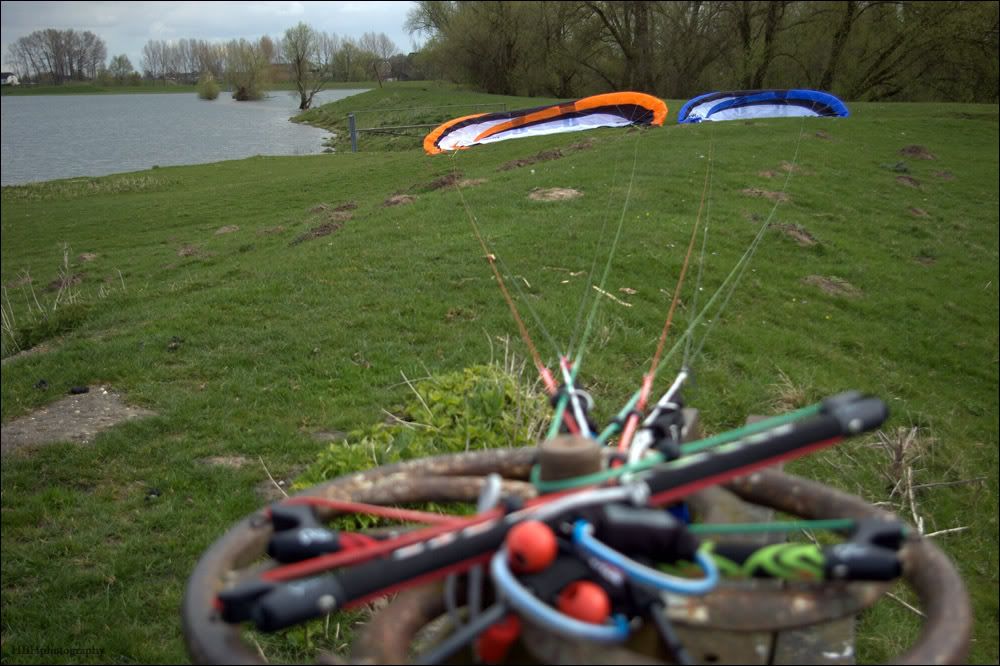 At the Kag (kite and grill) Testival in the Netherlands, Ralph brought a Pulse2 in 6 and 10m2 for me with BBS print on it ...

now a warning...be careful with the 6er. This kite is SO fast.
When most people were kiting with 10 and 12er kites, I was easily cruising with the 6er. The kite generates enough power because of the high flying speed so it was more than enough to rock the water with my 65kg...a fine thing. The lift from both kites is not huge in the lower wind range, but definitely adequate. But don't worry, there's enough pop to satisfy anyone...even in light winds.
With freshening wind the lift increases enormously…you get a explosive lift upwards and then plenty of hang time…one practically hovers in the air. With the 10er in an optimal wind the lift is better, logically. The 10er is agile enough for radical kite loops...and that with very little holding force. Another nice thing, the steering strength is adjustable by simply pushing a ball back and forth. You can adjust it according to your steering preference.
The features are pleasing in gusty winds, too.
On Thursdays through Sundays, I'm in Scheveningen (work) and Mondays till Thursday afternoon I'm inland...there I have a huge lake just outside my front door, with somewhat gustier winds. Even in these conditions the Pulse2 remains stable and shows no tendency to stall or collapse.
Water starts are easy...actually similar to that of a Bow Kite.
If the kite is laying on the Leading edge, just pull on one side of the bar and the kite pulls in the wind window into the air again.
To sum up, a fat allround kite with really good freestyle properties. It can do everything; from big airs, down loop, from cruising to speed to waves. Handling is easy but definitely sporty and above all, direct. I'm totally impressed with it, and look forward to a great 2008 season. I can only say: If you get the opportunity to test, then do it…an interesting gadget.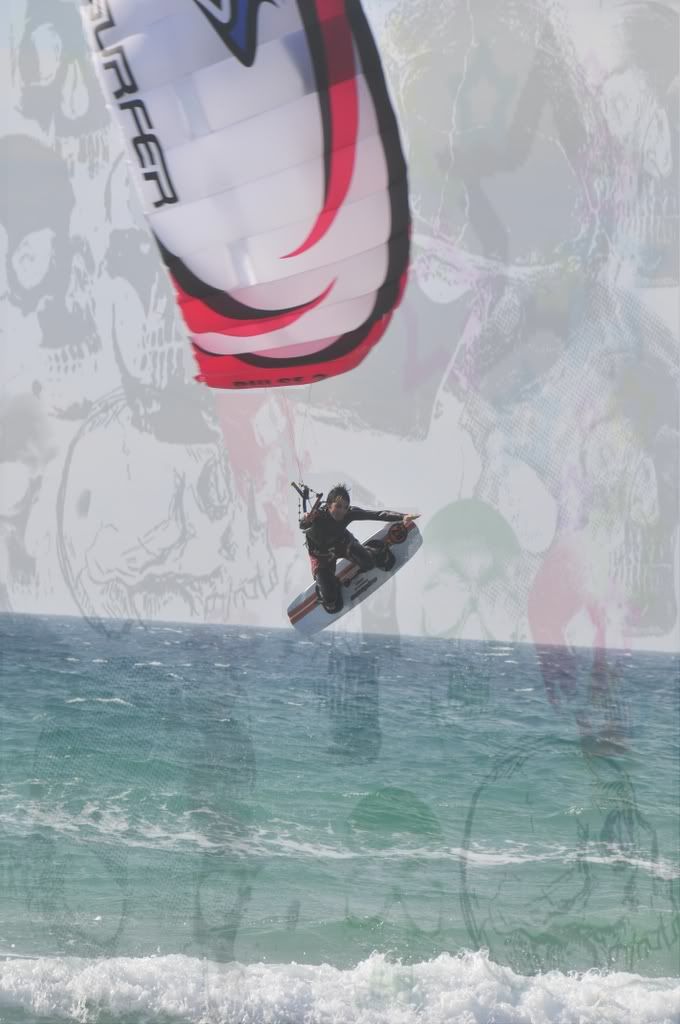 Armin, thanks for the testing opportunities...I'm addicted now....and Ralph + Armin...thanks for the super-quick service with my kites!