BullsShit.com wrote: Don't know if you understand the QR completely. The rubber ring is just a secondary to keep the clip in place. Works without, but might be a bit iffy. .
Ah BS, without the rubber strap, the hook would just flop around and wouldn't lock. Kite Attitude in France is the manufacture of the 2008 QR for Eclipse. From my recent emails with Kite Attitude, KA has mentioned three ways for an unintentional release; "the rubber is not very tight, the trigger that connects the loop can open the hook if you press it, and they've recently found out that the leash can sometimes press onto the end of the trigger, and therefore the quick releaser opens, especially if the leash is connected to the pink safety line next to the quick releaser." To date, I know of 7 local riders who have had an unintentional release. Five releases have been on, or near shore, with on-shore winds (think trees, swimmers, docks). The other two were in open water where the riders had time to re-hook and ride. Also, as far as I know, all riders had both hands on the bar, or had one hand on bar, the other hand on the board, at the time of releases.
Here is the Eclipse quick release with a modification that the manufacture (Kite Attitude of France) has recommended to prevent unintentional releases.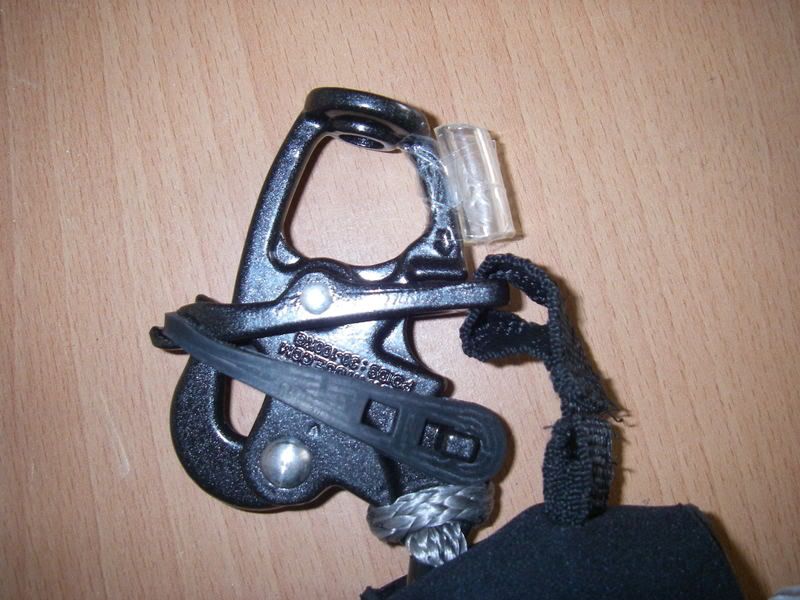 I'm looking forward to the '09 QR! IMHO, a QR like this, that is prone to release unintentionally, while riding with on-shore winds, with trees, docks, rocks, and swimmers, is a disaster waiting to happen, regardless of your abilities.
Cj