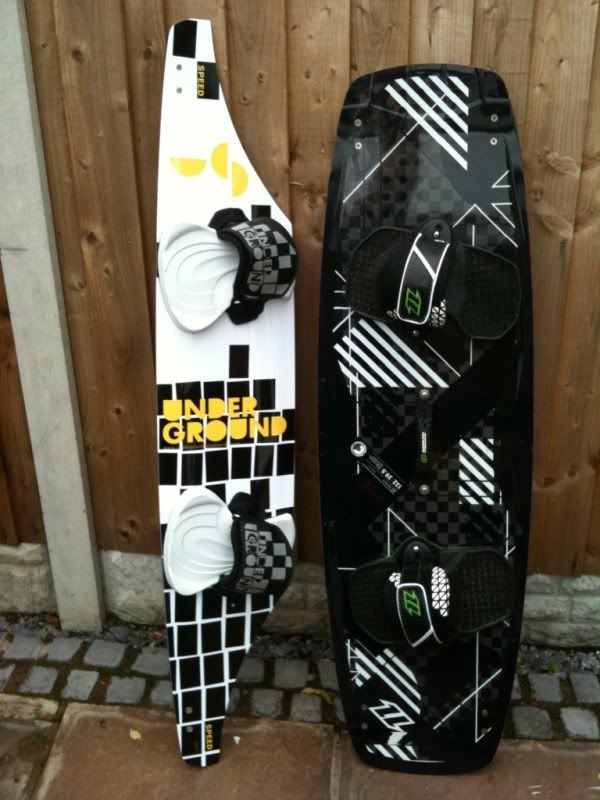 Being a "do it now you might be gone tomorrow" sort of person I seem to be one of the first normal uk kitesurfers who has all four kite discipline boards, race, wave, speed and of course the twin tip,.The speed board is the most extreme (I think) so I will tell you what I think about it as I have been asked for my thoughts on it before some guys dive in and risk wasting the £600 + gmb it costs for this underground production speed board,
Being an X speed freak on windsurfers for many years I was just waiting for this board to break cover and was the first to get one shipped over through mark at Board Worx in England,
(other very good retail outlets are available throughout the world) he also ordered one for the shop as a demo, so speak to Mark, as it may be the only demo in the UK.
Just to balance things up with the cost of it, it's a low sales volume specialist kind of board so its not cheap, but a custom one would cost more and a speed windsurfer would cost well over £1k, but yes it is expensive for a small 2 fin half the materials board.
But it looks mint,
What a stunner
The odd shape means that many guys who pick it up play air guitar on it,
It weighs a tiny fraction of a light twin tip,
But is it a "one trip pony"on the water ?
Well surprisingly no it's not.
I did think it would only go quick on mirror flat water and that would be that,
But after much use, Egypt for use on open rough sea and at the lagoon in dahab, and 2 solid hours today in 30+ knots on the sea and low tide flat water heaven at new brighton, Merseyside, its turned out to be something very special.
Yes its fast, bloody quick, put it along side a TT and its twice as fast on flat water when you are able to bear of wind, deep off the wind, extremely deep in fact rewards you with heart stopping acceleration,
But that's not all, guess what? It flipping boosts so high its scary, your landings have to be spot on, this pencil thin craft is unforgiving of even slight mistakes, kite loops are done with care, chop is great fun as you can fly at speed off the top of small crests and land in full control many meters further on and at full speed, now that feels so good,
( it felt downright dangerous on the first few sessions on the board, and I did crash heavily until I had the board dialled in, and today I was at one with the board, after many hours of O Shite moments, today was brilliant fun in gusty 30knots and 10 mtr Vegas conditions, the speed is addictive, and know I have been very fast, it was awesome, and today I was able to transfer that speed into height, and it felt extremely high, but landings were hold you breath moments as full control was so important in the shallow water, dipping the front would be rewarded with a sudden and unforgiving nose dive to doom, the front and rear widths are tiny, less the a mono water ski by a long way,
its not a board you can simply jump on and go fast, it takes time to get used to the low volume and narrow front/back, due to the low volume you are better keeping the board moving quickly through the turns, normal TT turns don't work well as the board sinks very quickly and will dump you forward as the front digs in,
waves are a challenge, but fun, if fact you can have fun on this little missile in most conditions, but you need wind, marginal winds are useless, 20mph is the minimum, 12 mtr kites work well, I have not yet used my 7mtr on it, but the 9 and the 10mtr have had a good work out with the board,
overall, its great fun, and not just for speed strips, my hands hurt after today, that shows how hard I was gripping that bar, yeeharrrrr,
get one for Christmas.