Navis Foucan 2012 Freestyle 132x41
Went on my 2012 3 week Portugal kitesurf trip and had a new company in the world of kiteboard building going by the name of NAVIS post me out their signature freestyle board for demo. Being based in Sweden (and during their bank holiday period) I was pleased they went to the trouble. This board was very much worth the trouble. Built from a solid wood core (Paulownia wood from Slovenia) and Bio-Epoxy from the US this board is very environmentally friendly, as well as a dream to use.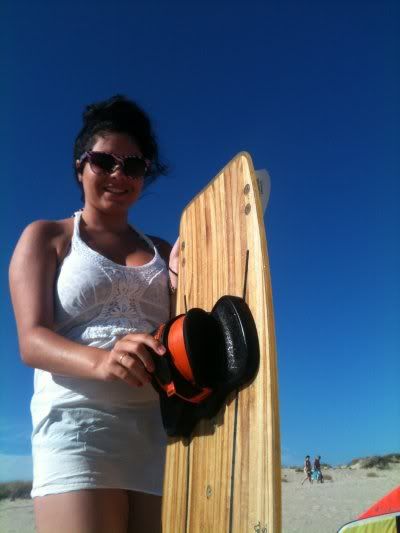 Weighing in at 2.55kg this is a pretty light board too, making smooth transitions on either tack pretty easy. The rails are sharp and progressive, but also not overly keen so not to cause easy toe side slams!
The underbelly is a full Dual Concave for quick planning and stable high speeds. This is a strong characteristic in major high line boards such as the Nobile 2HD series and the F-One Freestyle boards, which retail at almost twice the price of the Foucan.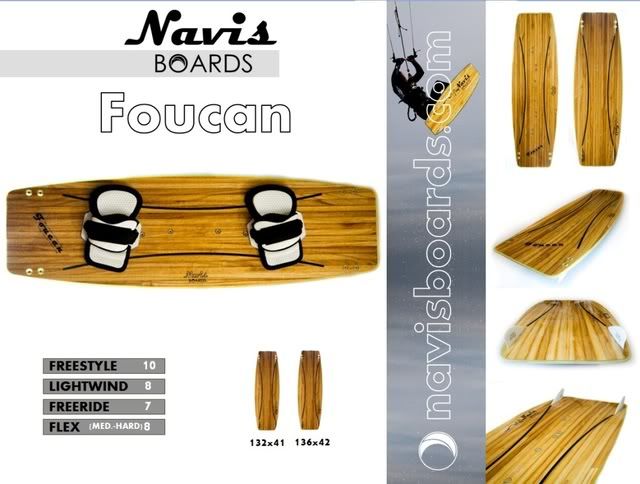 The upwind ability of this board is pretty astounding! The company advertises the Foucan as an "Upwind Machine" and let's face it, all the manufacturers do the same. This board however is just that. After a few hours on the water you just don't have to 'try' to get back upwind it seems to automatically take you there, it's as simple as that.
The board is classed by the company as a 'stiffy', but when tested by our Dutch friends at the Alvor Lagoons in Portugal they suggested it has a softer feel compared to their Liquid Force Freestyle boards. Nose to nose they were right. Stiffer than a Shinn MonkII, softer than a Nobile 2HD gave nice soft landings for a heavyweight rider such as myself, so I was personally pleased with the flex response.
I ended up buying the Foucan to add to my batch, if you see me riding it you could very easily fall in love with the Retro style, almost Bamboo, look of the deck, no fancy graphics here!
My personal preference with the Foucan was the Nobile IFS PRO 2011 footpads and straps, because, and amazingly, your typical kitesurfer doesn't have size 13 feet and weigh 280LB!! Who'd have known?
http://www.youtube.com/watch?v=9YFqvgJDfhA&feature=plcp