'
'
'
'
Well, I joined this forum about 2 years ago to build a board.
I love what you guys do here with your vacuum tables, the kevlar and the rest of it and someday, maybe I'll try that routine, someday.
But it was all so overwhelming.
I was into dozens and dozens of hours with materials into hundreds of dollars in my estimate, when I gave up, overwhelmed.
Paralysis of the analysis.
Do I use kevlar or regular fibreglass? Laminate or foam? How do I make a vacuum table? Poured rails!??!
It was just cheaper to buy one I figured.
So after punching a hole in my brand new used Spleene the very first @#$%ing time I went out, I thought #$%& it! I'll start at the bottom and work up.
I sat down, studied hydrodynamics and water tunnel models, lots of software, and …
Nope. A few beers and the results were marvelous. I give you…
The Chubby Girl!
Fun to ride!
Puts up with a lot of abuse!
Doesn't mind being ridden by others!
Doesn't mind me riding others!
Doesn't mind being ridden hard. And put away wet!
She's always ready to go! I don't worry about what she looks like!
And she's cheap.
Very forgiving, too. Good on the knees, very flexible.
Notice those fins!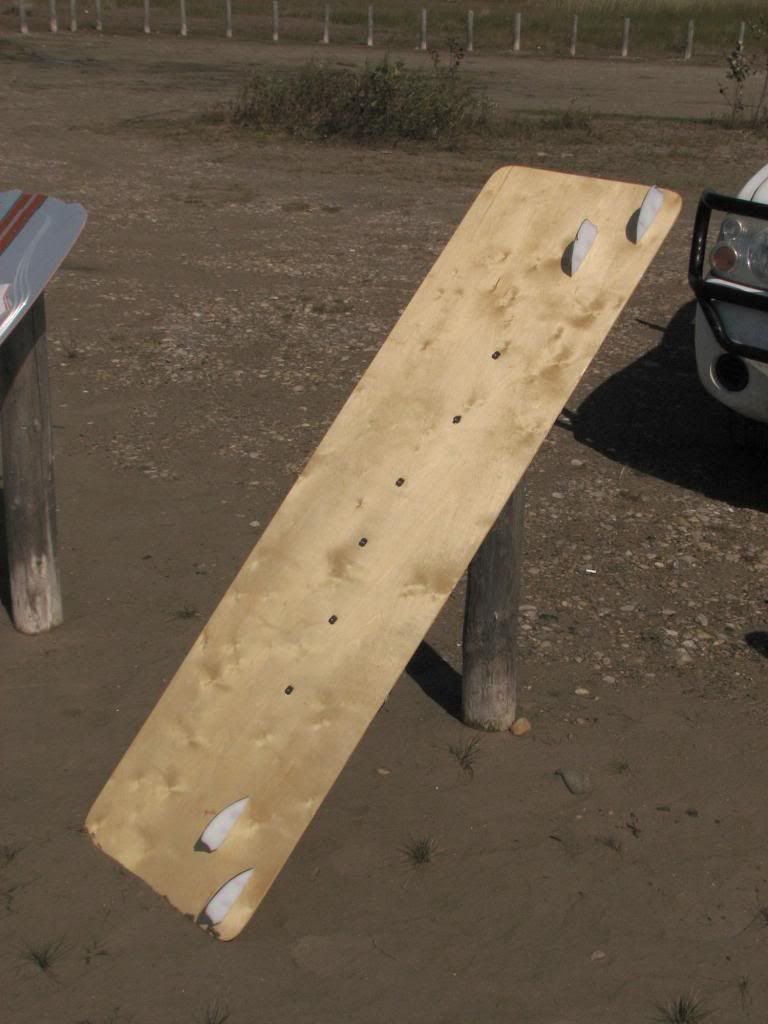 Under $100 of material, including $50 for the pads with a performance that easily was comparable to my Spleene 159 Door.
The fins cost me 8 bucks. For all 4! Nylon 1/2" cutting board.
I highly recommend EVERYONE buy or build an oversized board, as big as possible, when learning. It makes ALL the difference. They get you up and seat time, mowing lawns.
Anyone can build this board. I'm a carpenter (Not a good one--heavy construction.) but this can be done by anyone with a few simple tools: A jig-saw, files, ViseGrips C clamps and a screw gun is pretty much it. I used cheap, parkay tile wood glue. All stuff any guy should have around, or know a guy that does.
And an ability to follow basic instructions.
And beers.
What I liked about building my own board was the customization. Yeah…
Key to this was placing my pads in a position that maximized my weight on the board. I've got small feet, (But a big heart!) and tend to not be able to get an edge, so I moved my pads off center line. Worked like a charm. Easy to ride, too!
There will be those purists out there, that will notice the T-Nuts poking through the bottom. Now they do affect the waterflow over the board, such that velocity is lost at key…
Give yer 'eadz a shake!
They don't affect squat.
Weight is about 14lbs. If I want to trim it down, I lay off on the sandwiches before riding!
I'm up on my North Rebel 14 with this board as long as the wind can fly the kite, and I'm 225lbs.
I've got over 60 hours on her, and unfortunately the only reason I've got to trash her now, is because I took her out in heavy winds last year and the front edge bottomed in shallow water with big waves, pitch-poleing me, and separated the top and bottom hulls. But it didn't stop me from a little plastic surgery, and just gluing her back together and riding her for the rest of the season. Never underestimate a bit of plastic surgery to fix up yer gal!
I can post some basic instructions to get you fellers going, if interested.
If there is more interest, I can do a top notch job and post precise instructions, with materials list (all available at your Home Hardware or HomeDepot) with pictures and such, including drawings of boards--Templates--done in Illustrator and converted to PDF's, in order to be able to be printed out and transcribed onto the ply. That'll take time though.
This board was just the simplest of the simple: A square 165x50 with rounded corners--A margarine tub seemed to be the right fit.--and a slightly small secondary hull.
I'm working on my next board.
Questions, comments?
SweetDoug