pmaggie wrote:
Hi Roberto, I also own both a Sensor and an ESP bar. I frankly never compared the 2 security systems, I presumed they were the same (more or less) and that only the activation (ESP pushing, Sensor rotating) was really different. I noticed the mini fifth is bigger in size in the Sensor but that's all. Why do you please think they are so different regarding security? It's very interesting to me!

Thank you!
Sorry I did not see your post earlier...I'm surprised that you think the bars ar so similar, but that's OK I guess...To try to answer your question about "security": I think the new Sensor bar does the same as the ESP but with a simpler design that does not rely on the thin "mini-fifth line", The Sensor only has the two 5mm (?) lines so this is more secure in my opinion. Also, if one of these 2 center lines breaks you will not loose the kite entirely.
If I'm not answereing our question please be more specific and I will try again.
WildDuke - a couple of pics per your request. The distance from the cleat to the split where the front lines are connected is approx 14' ( 4.25 m) so I over estimated in my first post above. And to try to answer your first queston better - the kite flags* on both front lines.
(* by "flag" that is to say the kite "luffs" on both front lines. The term "flag" to me means flying from one line only - just a matter of how you want to define it I guess.)
Otherwise I continue to enjoy this new bar immensely. The depower action is super smooth, easy (requires very little force), and fast.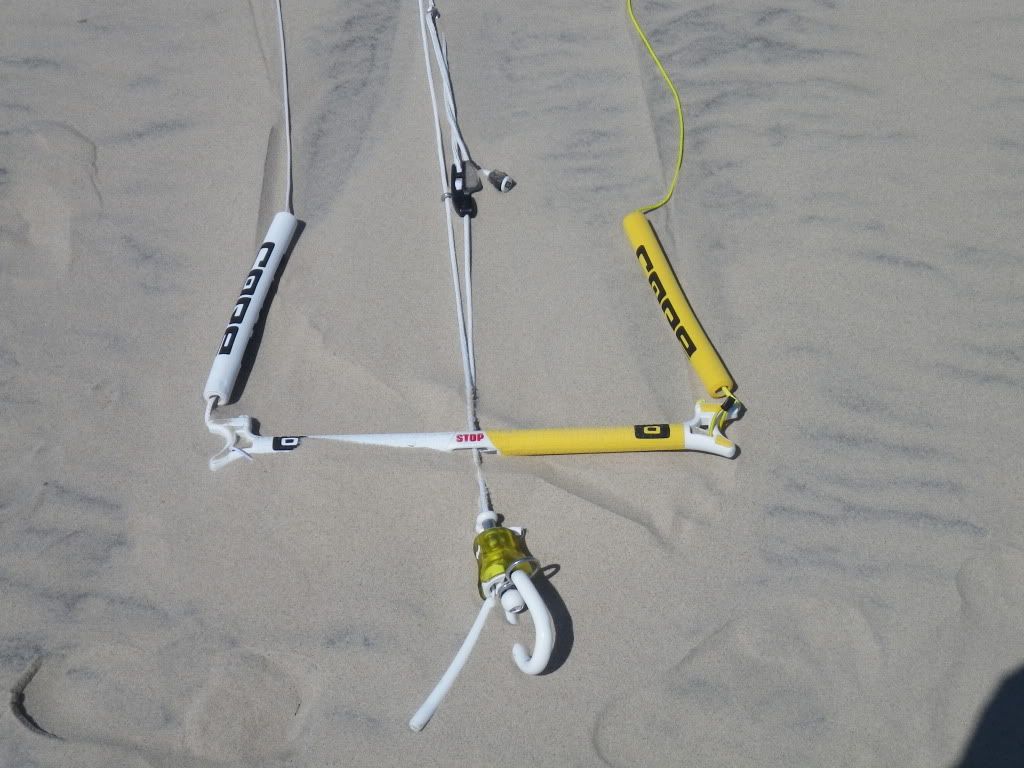 - bar shown upside down - I guess they put the "Stop" on there as a warning.. I was setting up downwind that day.